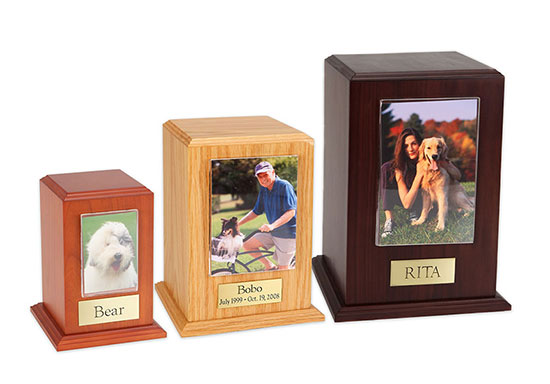 Our Tower Series Photo Urns are designed for the pet owner who wishes to display their favorite "vertical" photographs. Made of solid Cherry, Oak or Walnut, the Tower Photo urn is a high-quality urn worthy of your pet's memory. Available in a small, medium, and large size depending on the size of your pet, this urn includes your personal inscription (up to 3 line, up to 25 character per line) on a premium leaded brass nameplate (centered below the photo holder). Pet's bagged ashes are installed through removable bottom which is secured with screws, providing tamper resistant protection.
Note: The Small Urn comes automatically with a 2.5" x 3.5" vertical photo-holder, the Medium Urn comes with a 3.5" x 5.0" vertical photo-holder and the Large Urn comes with a 4.0" x 6.0" vertical photo-holder. You do not send us the photograph. The photo-holder is attached magnetically and is easy to pop-off, slide in your favorite photograph, and re-attach to the urn. We use the magnet to allow slight adjustments in the positioning of the photo-holder to better fit your visual preferences.
Prices do not include sales tax. Options for type of wood and inscription can be specified on the contact form.