Burial Marker: Laser Etched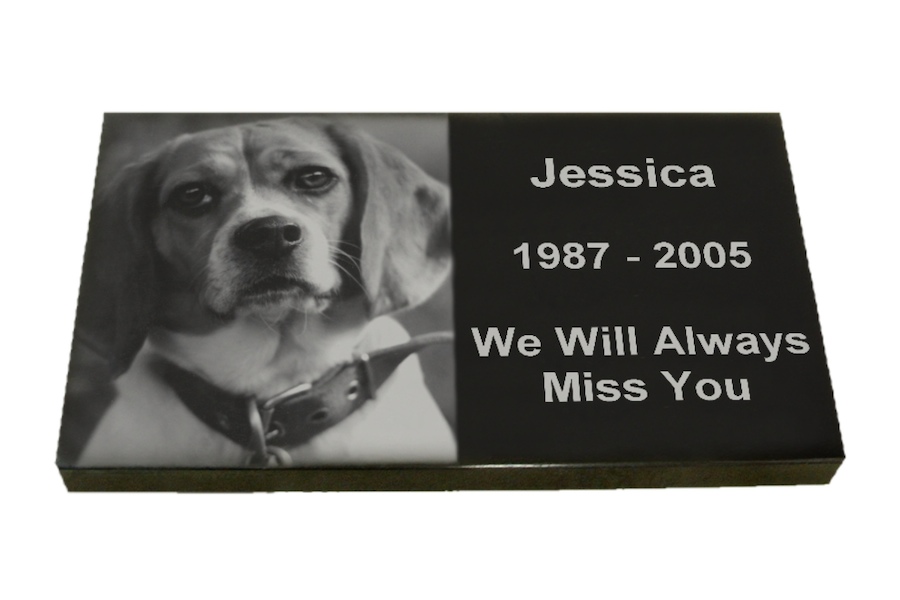 Treasure your friend forever with a pet memorial. Exquisitely crafted of solid black laser etched granite, each stone comes with a nicely polished finish. All the memorials are 2" thick. These make for wonderful backyard memorials for pet owners who choose to bury their pet, bury their pet's ashes, scatter their pet's ashes, or for those who simply desire a permanent reminder of their lost friend.
Your pet's name (up to 20 characters), Year or dates of birth and passing (20 characters) and a personalized message (up to 40 characters) are handsomely etched into the stone. Then, to add to the beauty of the marker, a picture of your beloved friend is etched into the stone as well.
Image Instructions:
High quality pictures generally provide the very best results. You may also give us instructions to remove unwanted parts of the picture if desired. Simply add these comments when emailing us the scanned picture after placing your order. You can email a high resolution file of your favorite photo to [email protected]. We accept most of the widely used formats ( .jpg, .png, .tiff, .bmp). We recommend 300 dpi in 4 in. x 6 in. size.
Prices do not include sales tax. Inscription can be specified on the contact form.